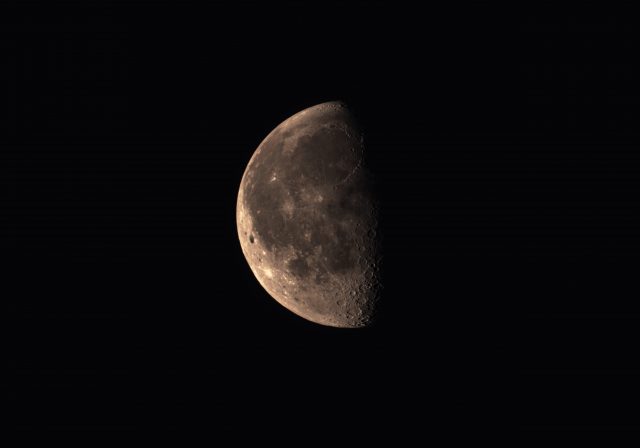 I finally did it.  I bought a new camera for imaging (and Electronically Assisted Astronomy or EAA for short) that has a cooler and is dedicated for astrophotography.  It is a QHY183c from QHYCCD.   It is a 20MP, Sony IMX183 BSI CMOS-based camera with electronic refrigeration to cool the CMOS chip and reduce noise.
I chose a color camera since I shoot comets and it is easier to do those with a one-shot-color (OSC) camera vs. a mono camera needing filters and a filter wheel.  Plus, it was cheaper by far for the color version ($699 vs $999 or $1199 w/filter wheel) since Sony sells and produces lots more of them than the mono version of the chip.  And, you don't need a set of filters and the filter wheel, which adds to the cost considerably.
The moon image  above was shot when it was still low in the sky and reddish in hue.   I shot a short video of it with 61 frames.   I used SharpCap 2.9, since the newer SharpCap 3.2 version did not want to work for some reason.   I opened the .SER video file it produced in AutoStakkert and stacked half the frames with the default AutoStakkert settings.   Some sharpening and other enhancement was done in PS.
I had a few problems with the laptop not handling the amount of data that the 20MP cam produces at it's full resolution and highest bit-depth settings.   I could get it to work in mono mode but not in color mode reliably.  Later, I tried the camera with a much more robust and newer laptop and it seemed to work much better.   Looks like I will need to upgrade my field laptop, which is an older Panasonic ToughBook with an i5 processor.
EAA was a blast with this camera.   I was in the middle of the city and was picking up the Veil Nebula and the Horse Head Nebula with no problems.   I was using a cheap UHC filter that had sharp cutoffs for H-beta/OIII and H-alpha wavelengths and that helped with all the LP.  I did more EAA than trying to get data to produce finished images.   I kept a few that I will tack on to the end of this post.