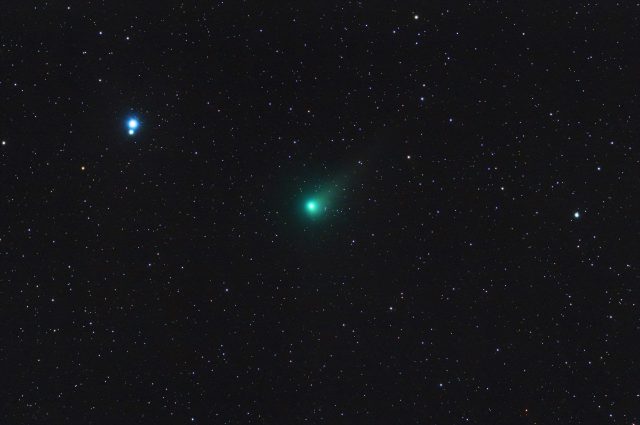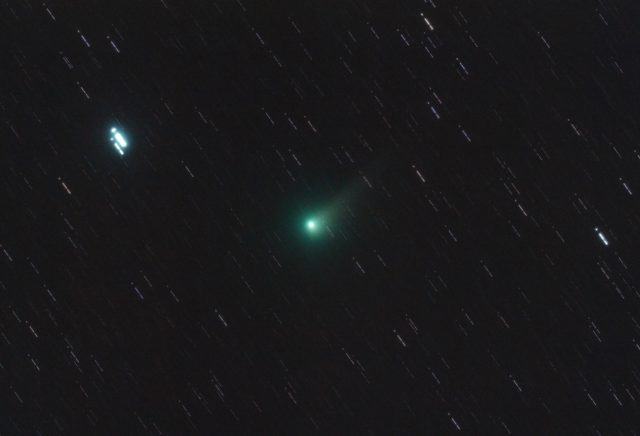 I made it out to my dark sky site again on Mother's Day, 2017.  Mom's house was on the way there, so I managed to visit with her before my imaging session, which worked out pretty well.
Comet Johnson was my only target on this evening.   I used my Canon T3 with no LP filter at ISO 3200 with 3 minute sub-images.   That was about max for this particular night in that area of the sky.   A few high clouds interrupted me after about 8 shots, but I was able to continue shooting after they moved on.
I was hoping to catch a glimpse of the ion tail with a single exposure, but no luck in that department.   The LP dome to my northeast that the comet was embedded in was the limiting factor here.   Maybe the LP filter would have let me use longer exposures and I might have been able to detect the ion tail like that.
The 3 minute subs let me track the stars with only minimal pseudo-nucleus smearing, but anything longer and I would have had to track the comet.   That makes it harder to do star-freeze processing if the stars are trailed, however.   I either have to fix the trailing in post-processing or shoot a set of star-tracked sub-images.