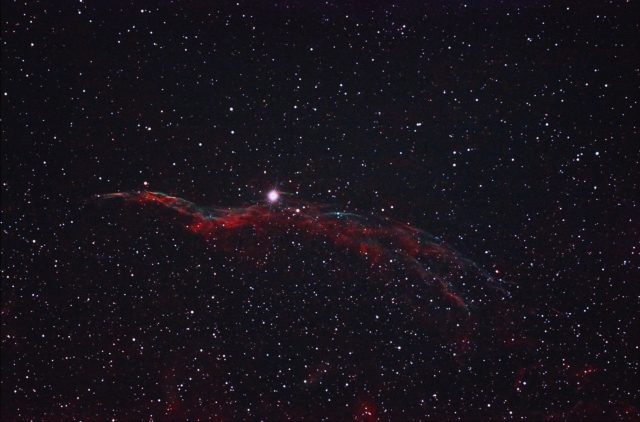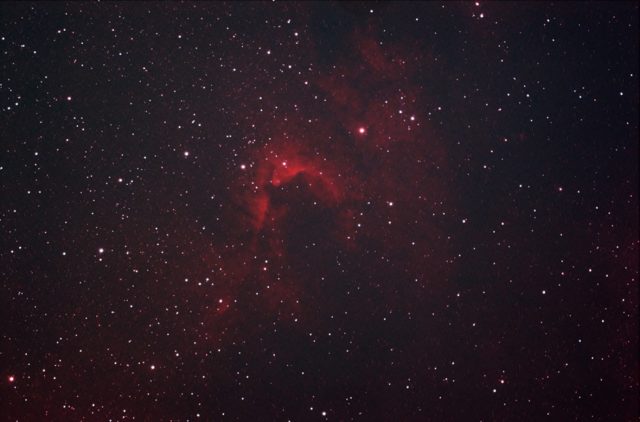 What luck!  First light for new filter is the day I received it!   Thanks to the clouds for staying away.   What I wanted to test was my new Optolong L-eNhance dual-band nebula filter, which is similar to the UHC filter I already own but with a narrower bandwidth and a more even color rendition across the frame than the cheap UHC one I've been using.  I got to try it out before the  run of good weather we've been having ended.
I was a able to test it on the Veil, which I recently imaged, and the Cave Nebula, which I had never shot before.  I am very pleased with the results.   Even color and illumination and better rejection of LP.
The Veil nebula was shot like I've been doing – 30 sec sub images at high gain. The Cave was long exposures of 4 minutes and I managed to get 26 subs.  The Veil is a finished image and the Cave Nebula is still a work in progress.   It seems the long exposure, 4 minute darks I used were not too good of a match and there are numerous hot pixel trails left to manually repair or clone out still left to do.
I also tried it on two reflection nebulae, one being the Running Man in the image below, and it was not as good as my UHC filter.    I also tried one star cluster, M35, and it is the last image below.  No galaxies yet, so I'm not sure how well it will work for those.   Maybe next time I will have to try for one and find out.