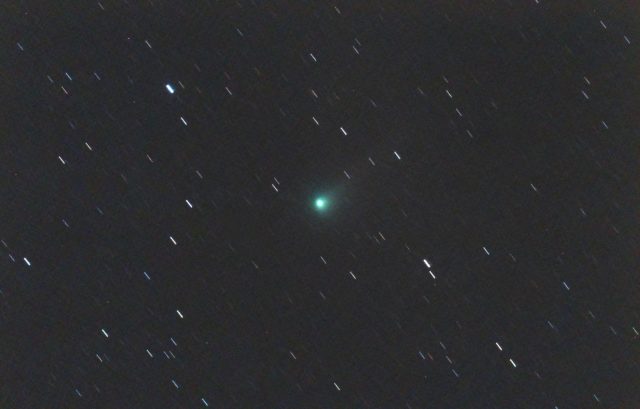 Here is another Comet Johnson image from my Bortle red zone location.   I used my older, modified Canon XS camera and ISO 200.  I had read somewhere that ISO 200 on the XS series was close to unity gain and I wanted to see for myself how sensitive it was shooting in the red zone LP at this setting.
I went with 5 minute subs with tracking on the comet enabled and got 11 before moonrise.  I probably could have gone 8 minutes in these conditions with ISO 200 to hit mid-histogram, but I stuck with 5 minutes since the histogram hump was still well away from the left hand side.   Plus, it was about 70 degrees this night and the camera showed lots of hot pixels even using ISO 200.   It would have just gotten worse with longer subs.
The comet was at a low altitude starting out, so the LP and atmospheric extinction hindered me getting the really dim ion tail and the more subtle parts of the dust tail.   With moonrise coming so soon, I couldn't wait until it got any higher, unfortunately.
It is not a great image but not too bad, either.   At least I tested the XS and verified what it can do.   It is more suited for shooting nebula, since it is a modified camera, but I haven't used it in so long that I forgot how it performed on comets.