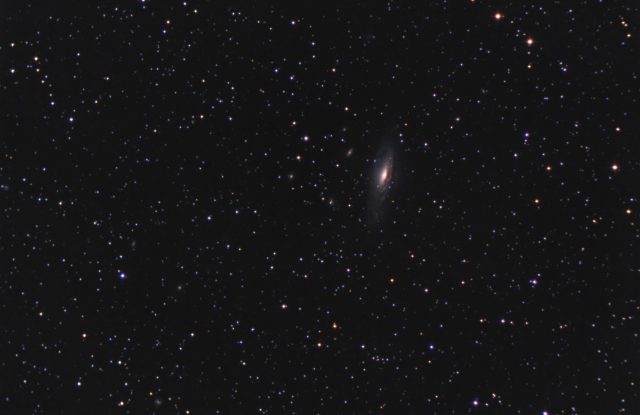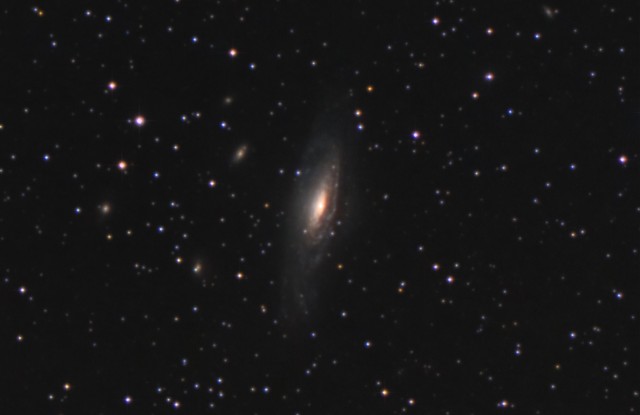 At the end of October 2014, I was shooting images of some brighter NGC galaxies, but the TV-85 scope I was using just didn't have enough image scale to do them justice, so I never posted them.  Well, my old C8 is still kickin' and it has over 2.5 times the focal length of the smaller refractor.  But, I needed a way to guide it and the 50mm guiding scope arrangement I used once for it was just not good enough.
With the above in mind, I decided I would try one of those new ultra-thin Off-Axis Guiders (OAG) with the C8 telescope and see how that works.  Amazon had an open box item on an Orion branded OAG for about $120 bucks, which was 30 bucks off the regular price.  I got it ordered and tried it out when it came in on Nov 19, 2014.
I had a tough time that first night, but not with the OAG.  Darn guider camera problems that were not related to the OAG kept me from getting any useful data.  The next night I tried again, and finally got it going.  The old C8 was not collimated too well and I fought with it a bit.  The transparency and seeing were terrible, which didn't help matters much.  Plus, that old C8 has some bad aberrations in the corners of the frame of my Canon T3, which made focusing difficult.   (Reminds me why I don't use it for deep sky imaging too much since it lacks a sufficiently flat field.)
Anyway, I stacked what I got (23×150 sec @ ISO 3200 sub-images) and even though the guiding and focus wasn't too good, it was a usable image.  I improved it by combining it with the data from the TV-85 that I recently took.
So, there you go. A Tv-85 and a C8 combined image of NGC 7331.  It is not too bad, I guess.  🙂
UPDATE:
I found an image taken with my GSO 8inch F/4 telescope of NGC 7331.  Here's the combined image from three telescopes: