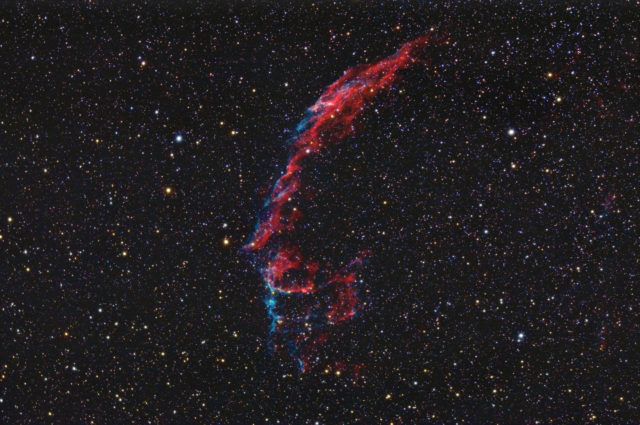 I have a new imaging location I tested out for this session.  I only shot one object, the Veil nebula, with various exposures to see what the results would be.  No filters except a UV/IR (clear) and exposures up to 4 minutes per sub-image.
This is 7×4 minute subs plus 65×30 sec subs for a total of about an hour of integration.   I could have almost doubled the 4 min exposures to 8,  since the LP was minimal.   But, I only had darks up to 4 minutes long and was not going to burn time shooting more, so those were the longest.
Conditions were very good, very transparent, average seeing and not too cold.  I was not prepared to stay all night, unfortunately and I should have brought along my insulated coveralls.   It got a little chilly just sitting at the computer and not moving.
Update:  I had some data of the same object taken from the city using an L-eNhance filter and the same scope, so I mixed a little bit of that in as luminance for just the nebula to see how that would look: