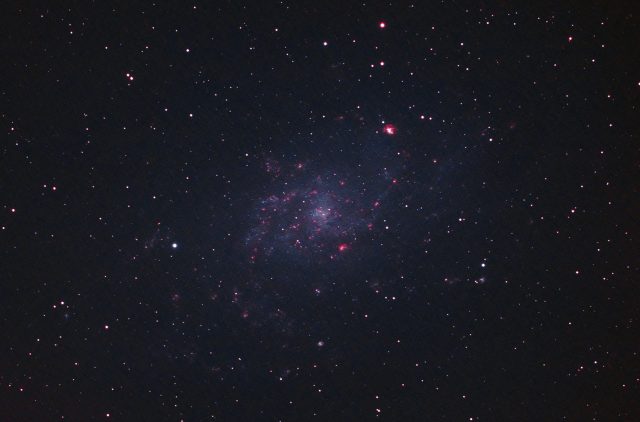 Well, my luck with the weather allowed me to keep my promise and try out the new L-eNhance filter on a galaxy, in this case, M33.   It came out surprisingly well considering this filter is not really made for galaxies.  M33 has enough H2 and OIII regions to make things interesting, however.
I used Unity gain (11) with 4 minute subs, captured and LiveStacked in Sharp Cap 3.2.   I also kept all the individual frames and tried stacking them in IRIS, but the LiveStack was better in overall quality, so I did not go beyond stacking them and viewing the results and just discarding it.
Below is the combined data from the above with 10×120 sec sub-images taken with a UHC filter: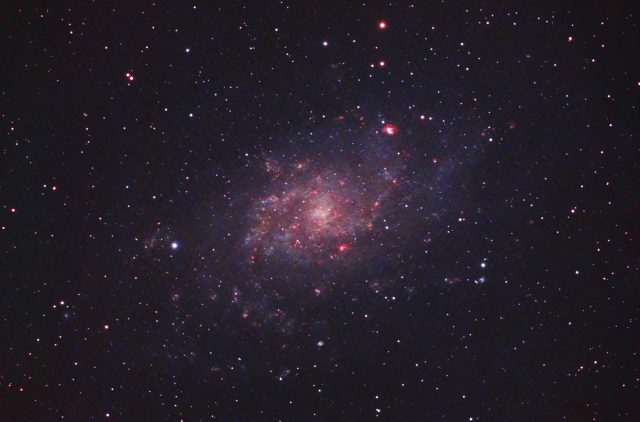 So far, the L-eNhance does well for any H alpha objects and has a much more uniform background than my cheapo UHC.   The UHC filter has a red to green diagonal color gradient always present and is exaggerated by the degree of LP in the shot, with long exposure stacks suffering the strongest.  Not fun to deal with, but I've managed.  Probably a quality control issue with coating uniformity for the cheap filter, I guess.
Since there is no uniformity-caused gradients with the L-eNhance, it lets me see the scope's vignetting with this camera setup.  Looks like I'll need to start using flats in SharpCap to compensate, since vignetting is now noticeable.