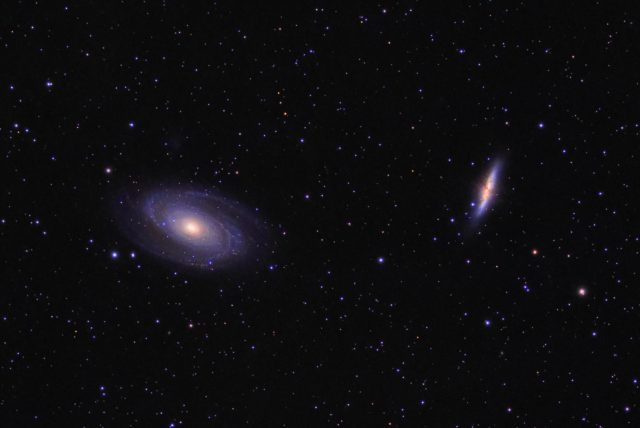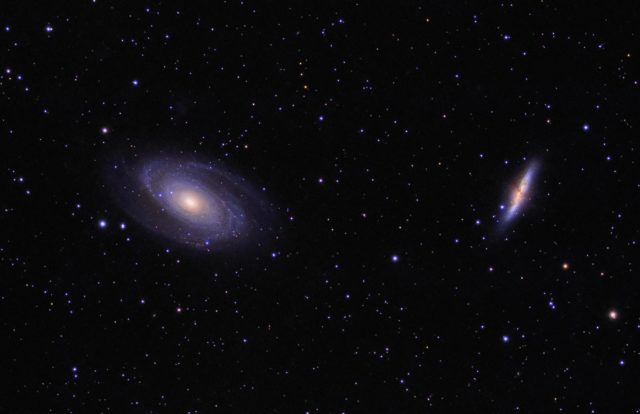 I was playing around and noticed I had three different images of this area.  Two were taken with the same scope (a Televue TV-85,) but with two different cameras (a Canon 350XT and a Canon T3, both modified.)  One was with my Meade SN8 and the Canon 350XT.
With Registar, I was able to align and combine the three images.  I used two base images, one with the 350XT as the base and one with the T3 as the base.    So, Registar scaled the T3 image down to the resolution of the 350XT in the first image, but scaled the data up in the two older camera images for the second image.   I tend to like the larger scale second image more, but the scaled data is softer and not quite as sharp as the down scaled data.
The background in both is still a little noisy, but I think it is tame enough to post.  There were lots of faint background galaxies in the full frames, but the one in this view that matters is that smudge just above M81, which is the galaxy on the left.  That dim smudge is Holmberg IX, a dwarf satellite galaxy of M81.  It is considered a good test of your data, since it is so dim and can be easily swamped by noise and not be seen.
The data I used is from Feb 2007,  24×360 sec @ ISO 1600, SN-8, Canon 350XT,  Feb 2008, 41×180 sec @ ISO 1600, TV-85, Canon 350XT and Feb 2012, 39×240 sec @ ISO 1600, TV-85, Canon T3.  Total integration of  7.05 hours