Saturn & Jupiter
on 12/22/03
On 12/22/03 I was bored so I decided to take out the scope and take some more pictures of the planets. It was clear and cold and the sky transparency was excellent. The seeing was not great, but was better than it had been since I got my new Phillips Toucam Pro webcam.
Below are two of the better pictures I managed to obtain on this night. (Click on them to enlarge.) The images are generated from AVI movies taken with the Toucam Pro webcam. An AVI movie is just a bunch of still frame images in sequence. These images can be analyzed then sorted for quality with a program called Registax. Then, the best of them are combined by the program with a method called stacking to form a much more detailed picture.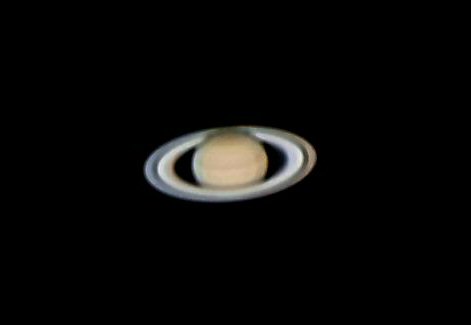 Saturn 12/22/03 - 58 Frames Stacked in Registax
Jupiter 12/22/03 - 324 Frames Stacked in Registax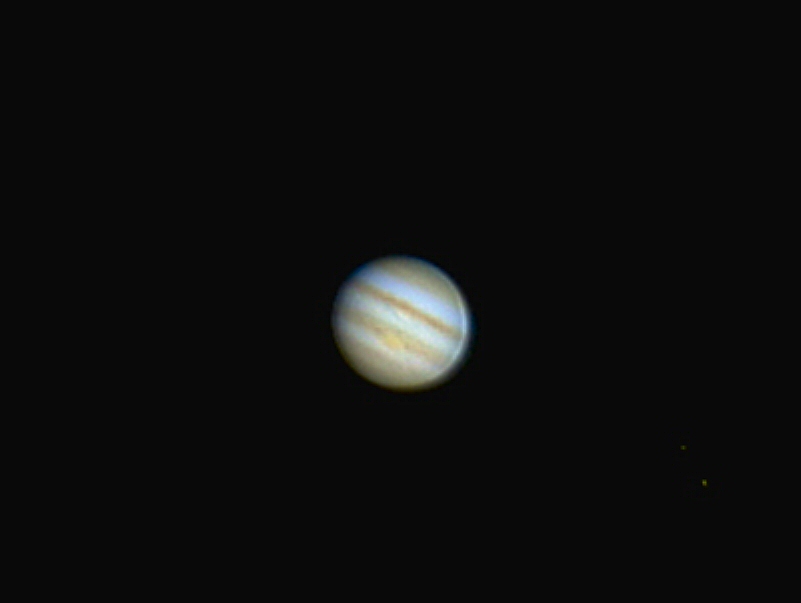 Jupiter with 2 of it's moons visible to the lower right. Click to Enlarge. 81 Frames stacked in Registax.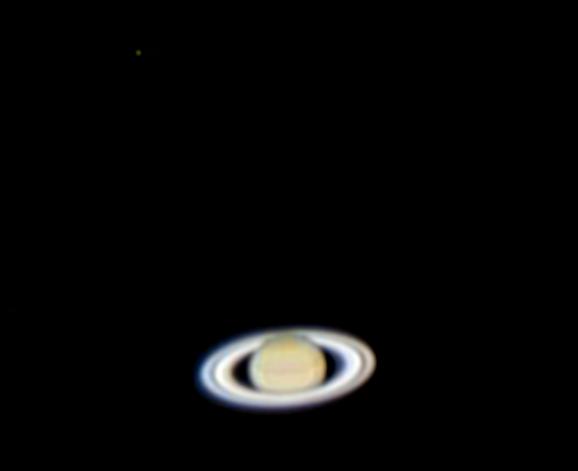 Saturn with its largest moon, Titan visible in the upper left of this image. Click to Enlarge. 50 RGB Frames stacked and combined in IRIS image processing software.
I was trying different settings for brightness, frame rate and duration on this particular night. The best images came from 2 minute long AVI movies at a 5 frames per second capture rate. I filled up 6 CD's with raw image data in the form of these AVI files during this session!
Software used was K3CCDTools for image acquisition and as mentioned previously, Registax for image processing. (For the last image, I processed it on 1/24/05 in IRIS and got Titan to show up.) I also used Photoshop, Paintshop Pro and MS Photo Editor for post-processing. In particular, I used an evaluation version of PaintShop Pro 8 for final enhancements. PSP 8 has a nifty tool to remove scan lines from video stills, which is what the Toucam stacked images really are. I have not begun to take advantage of all the features this software offers, but within the first hour of use, I was able to make better enhancements with PaintShop Pro 8 than with any other software I have tried. The improvements that this program can do for astrophotographs makes it well worth buying!
All Images Copyright © 2003 Mike Broussard. All rights reserved.
To send comments or for more information, please email me at
mike@synergyitg.com.

Visitors since December 22, 2003
This page was last updated on 12/19/2004.