The Andromeda Galaxy
350mm, F/4 Mirror Lens
Well, I just had to try it. On 8/14/05, I attached a telecompressor to the 500mm, F5.6 mirror lens I recently started experimenting with. This converted it to a 350mm, F/4 lens. I picked the Andromeda Galaxy as a test subject and took about a dozen 130 second images and 3 dark frames with this combination. I also took a longer, 260 second exposure and a matching separate dark frame. Of course, this object could use 10 times the exposure to bring out all it's glory, but I was just playing around to see how well the telecompressor worked.
I used IRIS to stack the images and clean up noise and a light pollution gradient. After the preliminary processing, I used Photoshop Elements to color balance and crop the image.
This lens combination on my Canon Digital Rebel is equivalent to a 560mm F/4, 35mm telephoto lens. As I feared, the lens still suffers from distortion the further you get from the center of the frame. I can minimize it by cropping, but distortion is still evident even in the cropped image.
The Andromeda Galaxy. This is a cropped image of a stack of twelve 130 second exposures all taken with a Canon Digital Rebel at 800 ISO using a 350mm F/4 mirror lens. Click on the image to enlarge.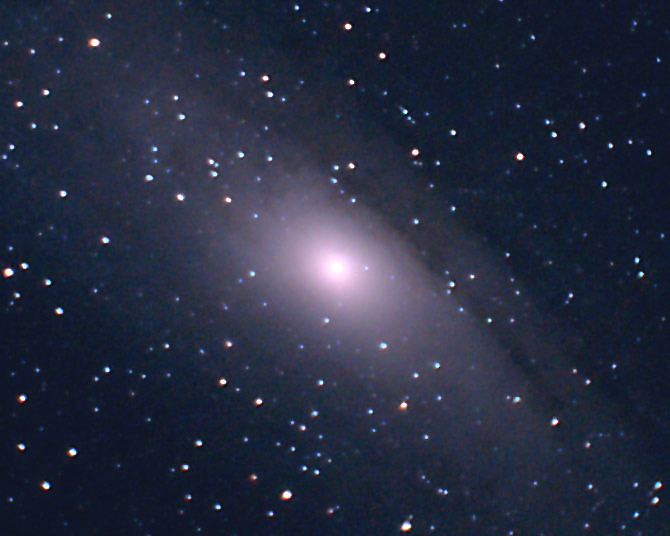 Here is a view of the core of the Andromeda Galaxy with only minimal processing to color balance and slightly sharpen the image. This is closer to a what you might see visually in a large telescope, minus the color, of course. Click the picture to enlarge.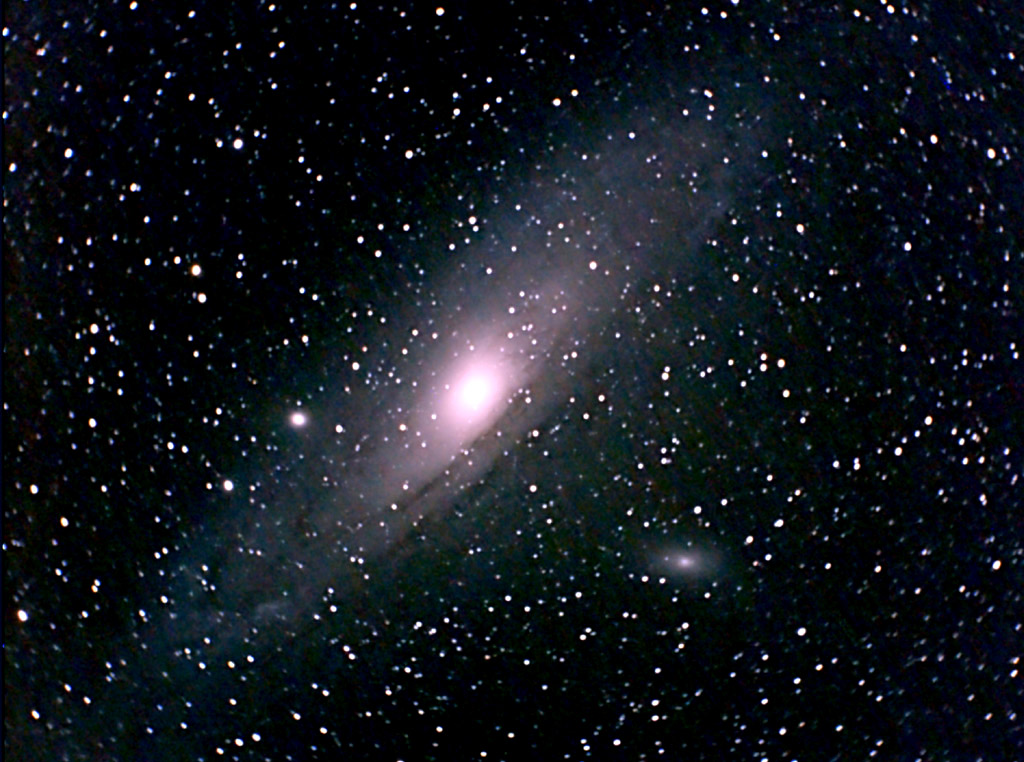 I rotated the image so that south is up and the galaxy is upright. Slightly different color balance, too. Click the picture to enlarge.
All Images Copyright © 2005 Mike Broussard. All rights reserved.
To send comments or for more information, please email me at
mike@synergyitg.com.

Visitors since August 14, 2005
This page was last updated on 8/14/2005