Astrophotography with a
500mm F/5.6 Mirror Lens
A used camera lens that I purchased from a friend for $100 back in December is being tested here to see how it performs. It is a Celestron 500mm F/5.6 mirror lens. The main reason why I bought it was because it was so cheap. Another reason was the lens is the 35mm equivalent of an 800mm telephoto lens when used with my Canon Digital Rebel. This is 2.5x more magnification power than my 200mm F/2.8 (320mm equiv.) and not much slower.
The weather has been terrible for astrophotography here, which is why I have not tested this lens sooner. I had a mediocre night on 8/5/05 with about a mag 4.5 to 5 limited sky and only a little haziness. I took the opportunity to test the lens in these conditions.
My conclusion is the lens is useful, but does have some focus problems, chromatic aberrations and coma. The center of the frame is ok, so I will just crop out what I do not need. An additional accessory that came with the lens that I have not tried yet is a 350mm F/4 focal reducer attachment. This would give me a 560mm F/4 35mm equivalent lens. I suspect the focal reducer might make the edge of the frame defects worse, but that's just a guess.
Here are a couple pictures to show how well this lens works with my setup: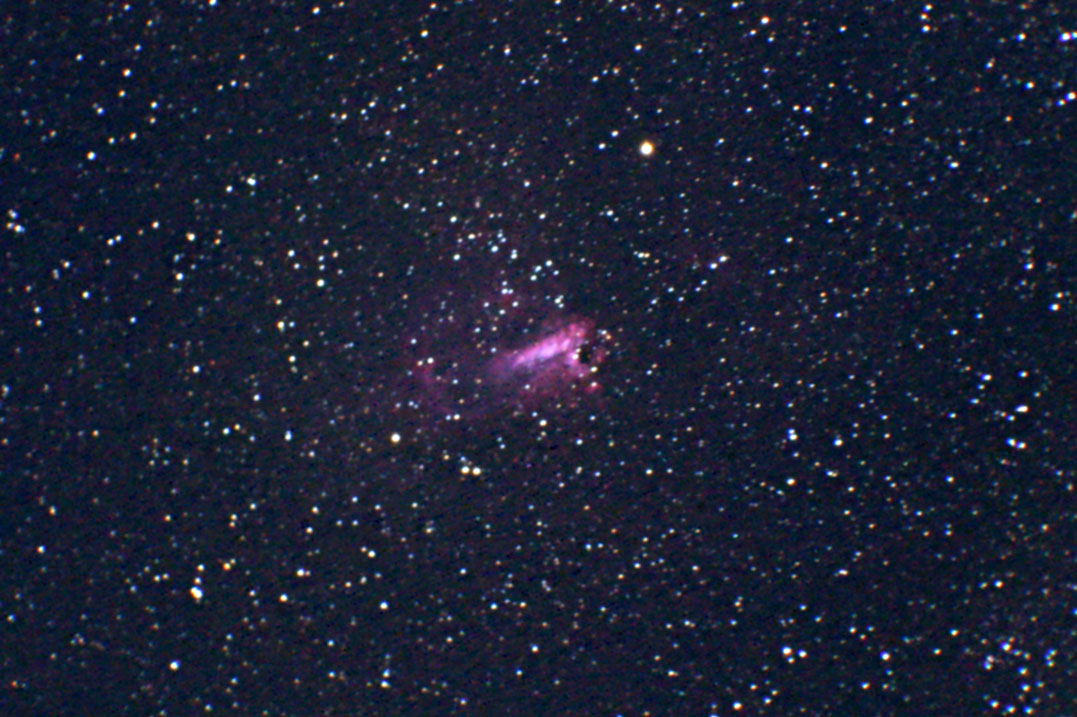 The Swan Nebula. This is a cropped image of a stack of three 180 second exposures at 1600 ISO using the 500mm F5.6 lens. I used BlackFrame NR on each separate image with a single 180 second dark frame. I stacked the images in Photoshop with normal layering at 50% opacity, adjusted levels and then brought the image into IRIS to run Gaussian filters and remove a light gradient. Back in Photoshop to adjust the sky background with the levels. I then cropped it to about 60% of it's original size.
I had trouble with the focus and it still seems soft here. There is also a pronounced distortion or coma towards the edges of the frame and chromatic aberration in the full frame, which is displayed below.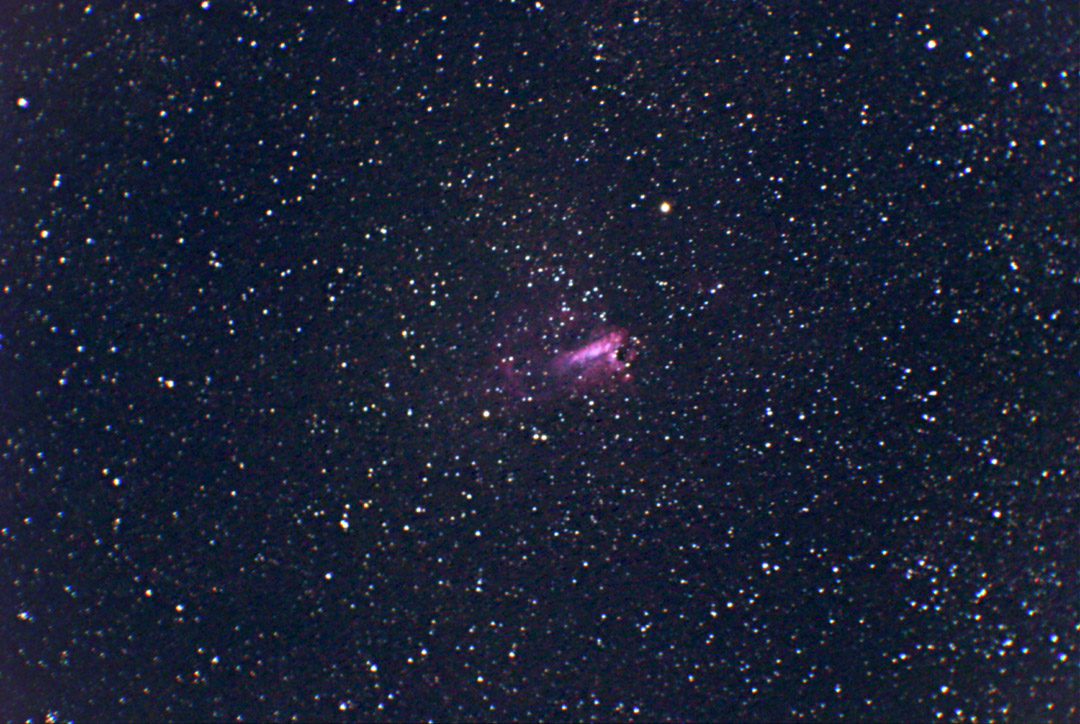 The full frame from the shot above. It is not too bad of a photo. Note the distortions and bad color near the edge of the frame. If I crop down like in the first image, I should be able to get away with using this lens more often.
The 3 minute long exposures were a bit much for being as hot of a night as it was. (I need to find a way to cool the camera!) There was a lot of noise in the single dark frame that I subtracted from each image.
Compare this full frame with the one here which was taken with the 200mm lens of the same general area to see the difference in magnification and resolving power.
All Images Copyright © 2005 Mike Broussard. All rights reserved.
To send comments or for more information, please email me at
mike@synergyitg.com.

Visitors since August 6, 2005
This page was last updated on 8/6/2005