Total Lunar Eclipse
10/27/04
Here are some pictures of the Lunar Eclipse that occurred on the night of October 27, 2004. I had to work late that day and was also delayed in getting my telescope setup by a small emergency that I had to take care of for a friend. ( They locked their keys in their vehicle!) Consequentially, I did not get to start taking pictures of the eclipse until well after it had already got going.
The pictures below I took of the event are the best three out the bunch in a photo-montage I created with Paint Shop Pro and a single best picture of the event. Click on the pictures for an enlargement.

10/27/04 Lunar Eclipse Photo Montage.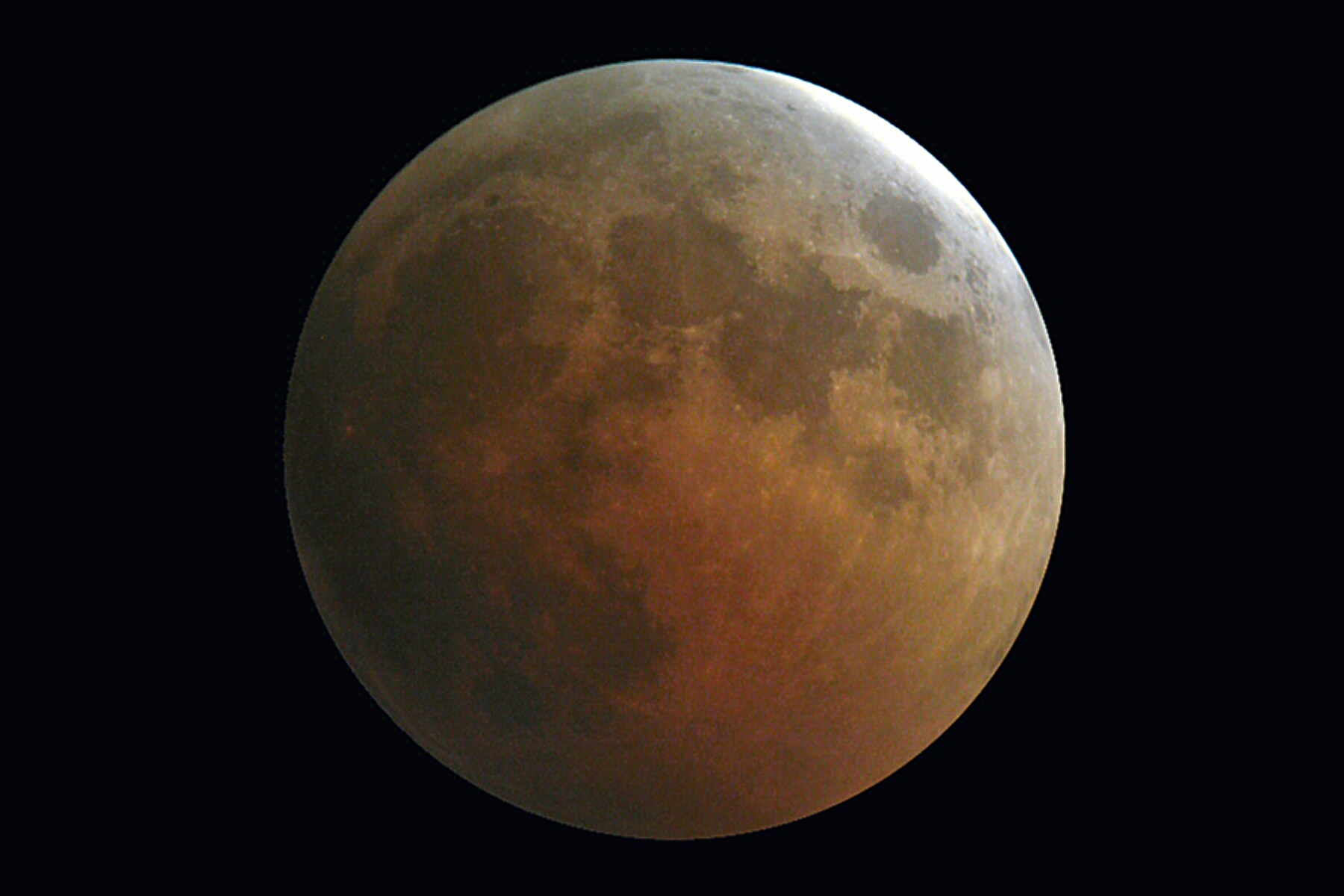 Here is the best picture of the Eclipse.
The digital camera I used for the last eclipse was on loan to someone and I had to borrow a Minolta 5MP camera from another friend of mine. The pictures used to create the montage below were taken with it using a technique called Afocal Eyepiece Projection. Essentially, the camera lens is placed close to the telescope eyepiece and focused at infinity. I used a tripod to hold the camera still. Most of the pictures were taken at 1600 x 1200 resolution with the camera set in manual mode. Exposures ranged from 1/15 second to 4 seconds during totality. I set the camera's ISO equivalent speed to 200.
I decided to setup the scope in a parking lot at my favorite coffee shop. I figured lots of my friends there would enjoy getting a peek at the lunar eclipse through a telescope bigger than what they can get at Wal-Mart! The drawbacks of doing it there were less time to take pictures and lots of lights that caused lots of reflections and lens flares in some of the pictures I managed to take.
Visitors since 10/28/04
All Images Copyright © 2004 Mike Broussard. All rights reserved.
To send comments or for more information, please email me at
mike@synergyitg.com
This page was last updated on 11/01/2004.