New Comet Machholz
on 12/13/04
NEW PICTURES FROM 12/28/04! CLICK HERE!
NEW PICTURES FROM 01/03/05! CLICK HERE!
NEW PICTURES FROM 01/08/05! CLICK HERE!
NEW PICTURES FROM 01/11/05! CLICK HERE!
NEW PICTURES FROM 01/14/05! CLICK HERE!
On 8/27/04, Donald Machholz discovered a new comet that now bears his name. It is the 10th comet he has discovered. He used an old 6 inch Criterion Dynascope reflector telescope to spot this object. This guy gives hope to all the amateur astronomers out there with small telescopes!
Comet Machholz is a naked eye object if you have very dark skies as of 12/5/04. It is easier to see in binoculars, however. It is moving on a northerly course to the right (west) of Orion. This comet will give a pretty good show over the next couple of months. It might not be one the general public will appreciate, but amateur astronomers most certainly will get a kick out of viewing and photographing it!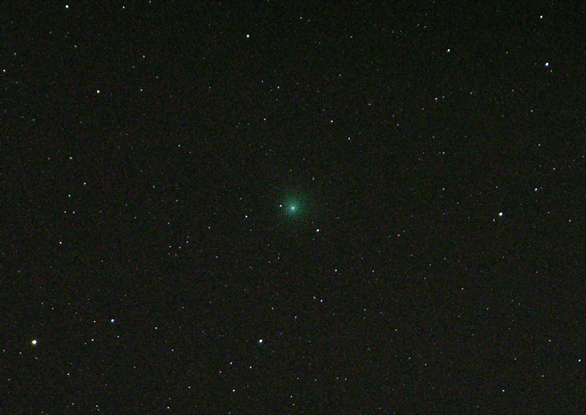 Comet Machholz, C/2004 Q2, just after midnight local time on 12/13/04 - 3 minutes with a 280mm f4.2 35mm equivalent lens and 200 ISO equivalent film speed.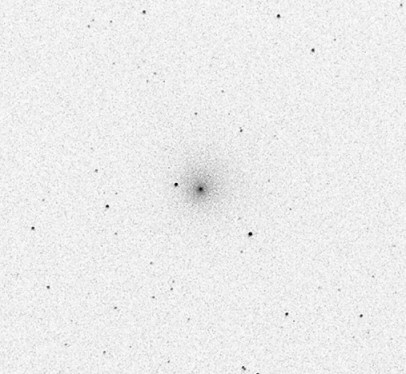 Greyscale negative showing ion tail slightly better.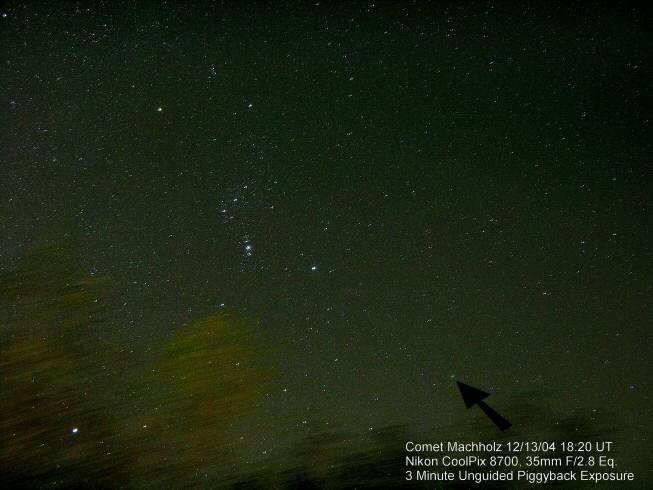 Location of Comet Machholz relative to the Orion constellation on 12/13/04.
I used my new Nikon Coolpix 8700 to take the above pictures. It was mounted on top of my C-8 telescope, which was used to guide the exposures. The original 8 megapixel files were cropped and some enhancements in Paint Shop Pro were done, mainly to adjust the sky background color and minimize the grain effect.
I am sorry to report that a short while after I took these pictures and downloaded the files to my computer, all my camera equipment was stolen from my home by someone who broke in while I was sleeping. I had left it all right by the door in 2 equipment bags and they just walked in and grabbed them. They even got my 35mm Nikon film camera and my precious 300mm f/4 ED Nikon lens. They did not steal my telescope, thank God. All I have now is my Toucam Pro webcam, which unfortunately in its present state is only good for planetary astrophotography.
Hopefully, I'll be able to buy a new camera to take more pictures of Comet Machholz before the show it will put on over the next couple of months is over.
All Images Copyright © 2004 Mike Broussard. All rights reserved.
To send comments or for more information, please email me at
mike@synergyitg.com.

Visitors since December 14, 2004
This page was last updated on 1/11/2005