May 2006 Images
Page 2
______________________
Omega Centauri on 5/19/06
The biggest globular cluster in the sky is Omega Centauri. It is not visible to most observers above 35 degrees north latitude. Since I live at about 30 degrees north latitude, I can see and image it! It skims just above the southern horizon (about 7 degrees) at this time of year before midnight. Check it out: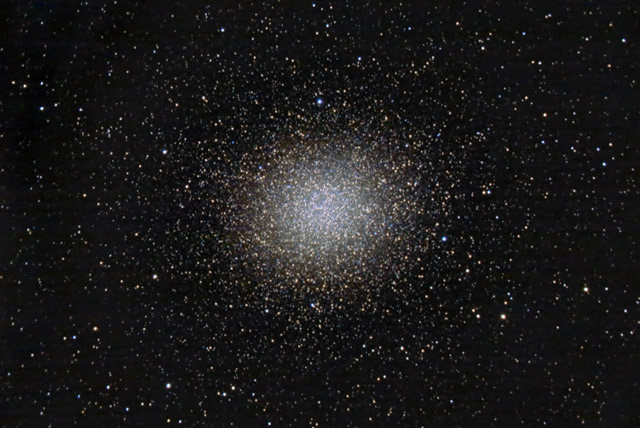 Omega Centauri Globular Cluster on 5/19/06. Taken with a Celestron C-8 at F/6.3 (1260mm.) Guided with a Meade DSI and 100mm F/5 refractor. Camera is a Hutech Type 1 modified Canon 350 XT. Exposure was 43x30 second sub-images at 800 ISO plus 40x60 second sub-images at 1600 ISO. Processed and stacked in IRIS with dark, flat and bias calibration. Photoshop, RC-Astro's Gradient XTerminator and Noel Carboni's Astronomy Tools for post processing. Neat Image for noise reduction. Click here to see the full size hi-res version.
______________________
______________________
All Images Copyright © 2006 Mike Broussard. All rights reserved.
To send comments or for more information, please email me at
mike@synergyitg.com.

Visitors since May 23, 2006
This page was last updated on 5/28/2006