September 2005 Images
Page 1
The Pinwheel Galaxy - M33
on 9/4/05
A clear sky on the night of September 4, 2005 kept me outside until sunrise. I was trying out the new mounting rails for my camera, lens and counter weights, as well as the computer aided guiding setup I now use.
I decided to focus my efforts on M33, a spiral galaxy in Triangulum. Also known as the Pinwheel Galaxy, this object is the second closest large spiral galaxy to our own Milky Way Galaxy, the closest being the Andromeda Galaxy.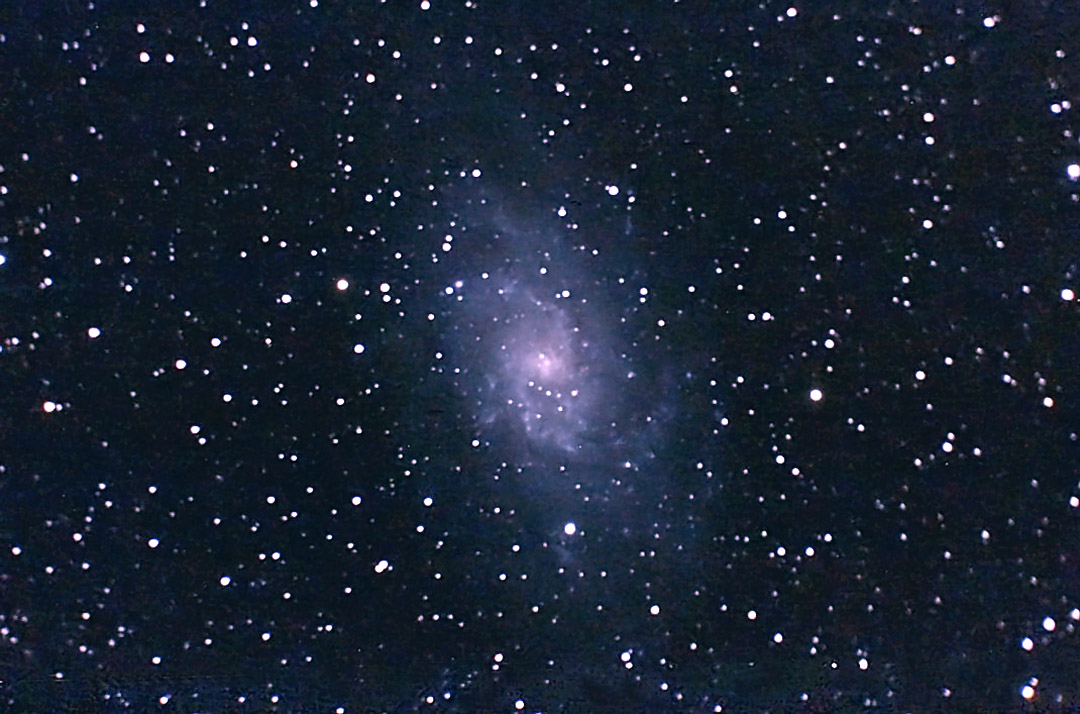 M33 - The Pinwheel Galaxy. This image is 14x180 second subs stacked in IRIS. Canon Digital Rebel, 500mm F/5.6 lens, 800 ISO.
___________________________
The Helix Nebula
on 9/5/05
Here is a nice planetary nebula that I have not observed in a long time. The Helix Nebula is in southern Aquarius and is a very large, but dim object. My 32mm Koenig eyepiece showed it taking up much of the field when I observed it visually on 9/5/05.
I had been wanting to try to image it for a while now, but I needed a very clear and transparent night. The last two nights have been very transparent for a change. I took advantage of the conditions and did some 5 minute exposures of the Helix, all guided by hand. I combined them in Iris and massaged the result in Photoshop for a little while and came up with this image: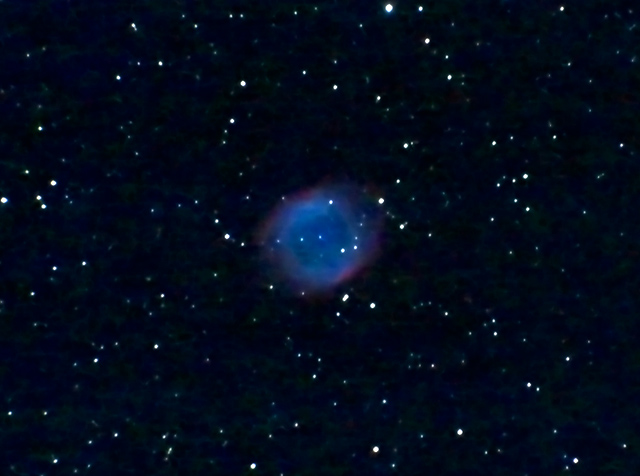 NGC-7293, The Helix Nebula on 9/5/05. At only 450 light years distance, the Helix Nebula is the closest of the planetary nebula to Earth. It is also the largest one in the sky. It is about half the size of a full moon. It is large and very dim, so it makes it hard to see visually. I had a tough time getting anything to register with my Canon Digital Rebel, too. It took a 5 minute exposure to bring out enough of an image that I could stack with IRIS. I used 7 exposures, all guided by hand, with a 500mm F/5.6 camera lens, 800 ISO to generate the above image.
___________________________
The Swan Nebula
on 9/5/05
This is my second try at the Swan Nebula with my 500mm mirror lens. I was hoping to bring out more nebulosity with longer exposures. Light pollution limits how long I can go, and I pushed it by doing 190 second sub-images. It looks like it will take a nebula filter to image it properly.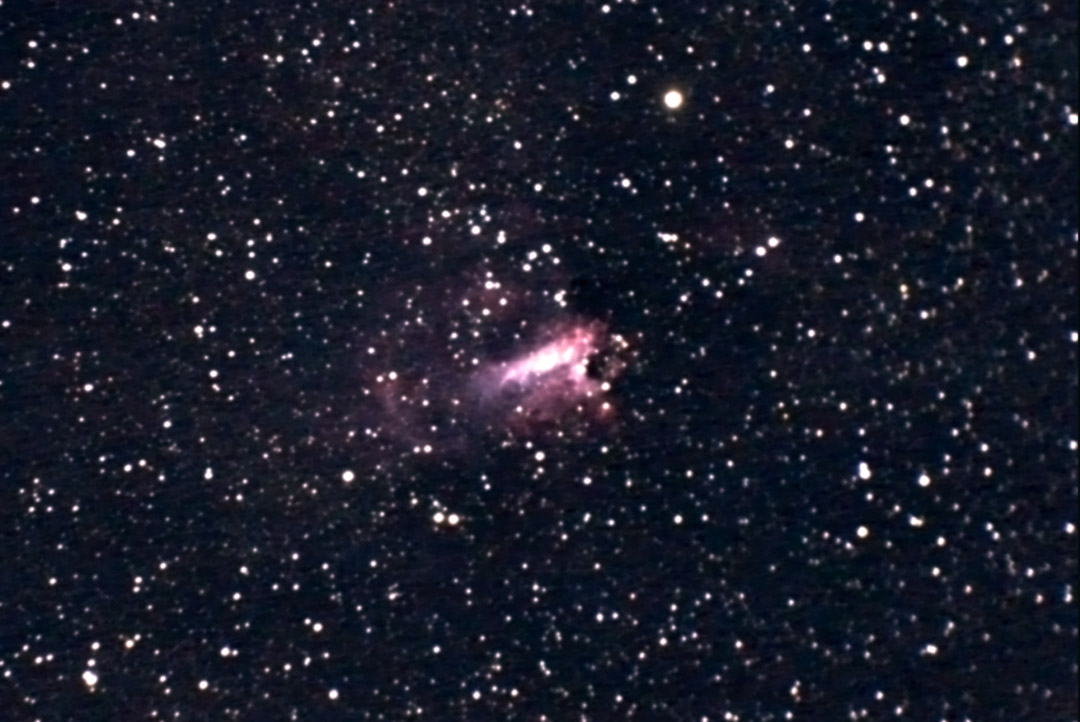 M17 - The Swan Nebula. This image is a stack of 6x190 second sub-images done with IRIS and levels adjusted in Photoshop Elements. My second try at this object. View the other image by clicking here.
___________________________
The Moon, Venus and Jupiter
on 9/6/05
This shot was of a conjunction of Venus, Jupiter and the Moon. Venus is the brighter planet. Also visible is Spica, a regular star.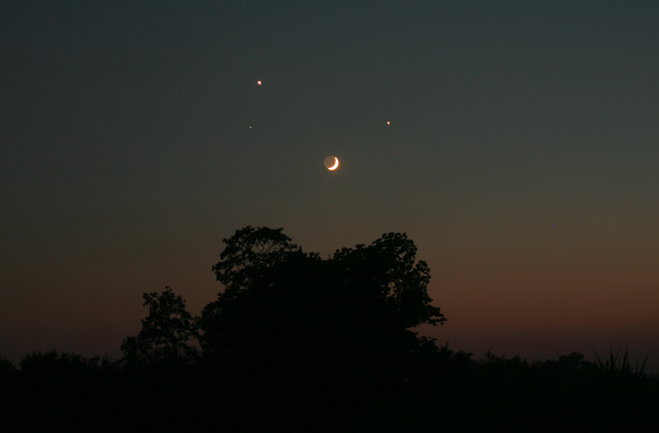 The Moon, Venus and Jupiter on 9/6/05. Canon Digital Rebel, 38mm F/3.2 lens, 100 ISO and an 8 second exposure in Raw mode. Export to TIFF with 1/2 f/stop digital push. Further levels adjustment in Photoshop Elements.
___________________________
The Ring Nebula Revisited on 9/10/05
This is my first attempt at using the C-8 for prime focus astrophotography while my telescope is guided by computer with a 500mm F/5.6 mirror lens, 2x Barlow and a webcam.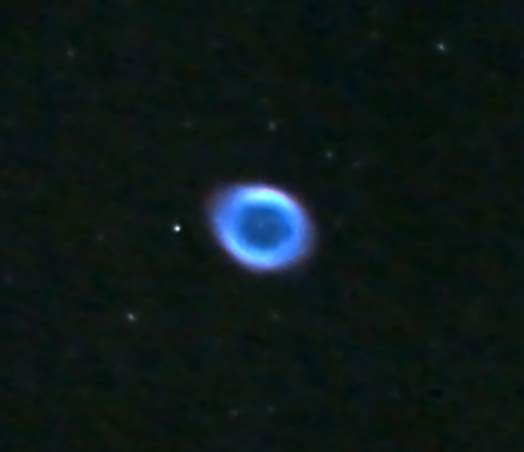 The Ring Nebula. C-8 2000mm F/10, 11x100 seconds, Canon Digital Rebel, 1600 ISO. Guidedog and a Toucam Pro webcam did the guiding. Stacked in IRIS. Photoshop Elements to color balance and crop at 100% scale.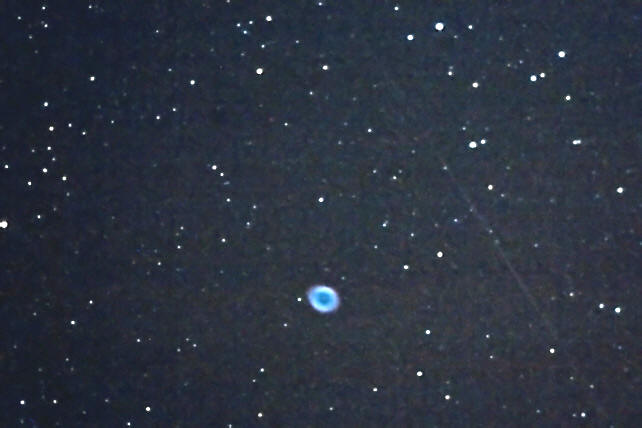 While taking one of the 11 exposures, a meteor went through the field of view. Here is a stack of images with that particular exposure right on top with high opacity and the brightness turned up so you can see the meteor.
All Images Copyright © 2005 Mike Broussard. All rights reserved.
To send comments or for more information, please email me at
mike@synergyitg.com.

Visitors since September 4, 2005
This page was last updated on 9/12/2005