Mike Broussard's Web Page
Visitors since December 1, 1995
---
[Hello][UFO Info][Weather][Win 95][Misc.][ View Guestbook][Email]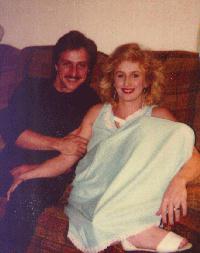 The "Meese" and Me
---
Welcome to my Web Page! I hope you find some usefull information or appealing links here. Please, make yourself at home. Oh, and before you forget, please sign my Guestbook if you don't mind. Thanks!

First off, I work at USI / Microage Computers. I've been employed there for six years. My main job is Novell Network support. I'm a CNE or Certified Novell Engineer, having earned this title when I first started at USI.

My girlfriend and I (in the picture above) have been together over nine years. We live near Lafayette, LA, in a modest home. We enjoy going fishing together, and going on vacations where any fishing or camping is involved.

My main hobbies besides fishing are computers and networking, which explains why I like my job so much! I'm also an amateur astronomer, and observe the heavens when I can. My other hobby is investigation into the nebulous world of Unexplained Phenomenon, namely, UFOs. I take a skeptical approach to it, not totally believing anything I read unless I see it for myself. If you approach this with an open mind, you'll definitely find a real mystery here.

BTW, thanks goes to Firstnet of Acadiana for a great site to put a web page on. They are really the best! Now, I guess I'll show you a few links to other sites.
---
Links to the Links
My Pictures of Comet Hale-Bopp!

My Pictures of Comet Hyakutake from 1996.
---
UFO Sightings Network
Click on the logo above to link to the new
UFO Net Global network, which my website
is now a proud member!
Internet UFO Group -- Headline NewsTicker

Java Ticker Tape applet courtesy of John Criswick
Recent Sightings

General UFO Links
UFO Related Newsgroups
---
Weather Related Links
---
Windows '95
---
Misc. Links
---
---
[Hello][UFO Info][Weather] [Win 95][Misc.][ View Guestbook][Email]
This Page Looks Best With Netscape



Click Here to Download it Now


Return to Firstnet
Email Me!
For comments or suggestions, send email to
mikeb@1stnet.com or mikeb@usimicro.com

Last Updated on 4/29/97.